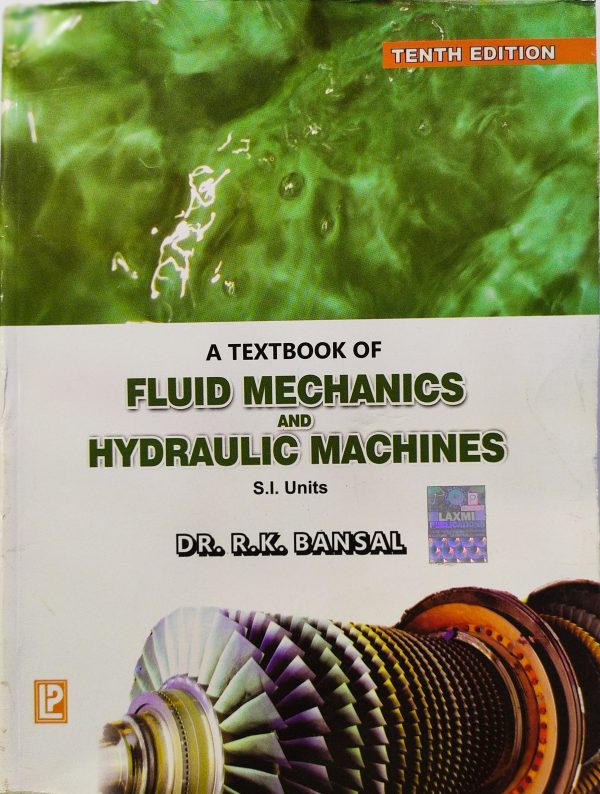 A Textbook of Fluid Mechanics and Hydraulic Machines
Language: English
Binding: Paperback
Publisher: Laxmi Publications
Genre: Technology & Engineering
Out of stock
Description
Fluid Mechanics And Hydraulic Machines is a course book on fluid mechanics for engineering students and for students appearing for the AMIE examination.
Summary Of The Book
Fluid mechanics focusses on the forces involved in fluids and the effect of the these forces on fluid motion. It is an important branch of Physics because it has huge applications in many fields. Its corollary study is the study of hydraulic machines, which deploy the fluid power required in various applications.
Compact and accessible, Fluid Mechanics And Hydraulic Machines is a beneficial guide for engineering students from various streams for understanding the principles behind fluid mechanics. It deals with various topics of the subject with a systematic approach that makes the concepts easy to grasp for the average student. Filled with a wide range of numerical problems, both solved and unsolved, it makes the learning process easy and retainable.
The chapters covered in the book are Properties of Fluids, Compressible Flow, Pressure and Its Measurement, Dynamics of Fluid Flow, and Viscous Flow. Turbulent Flow, Reciprocating Pumps and Fluid System, Orifices and Mouthpieces, and Notches and Wires are some of the other chapters covered. Also, there are lessons like Boundary Layer Flow, Buoyancy and Floatation, Flow in Open Channels, Hydraulic Machines: Centrifugal Pumps, and Turbines. This edition also contains a chapter on Ideal Flow (or Potential Flow).
A key feature of Fluid Mechanics And Hydraulic Machines is the inclusion of questions that have appeared in university examinations and competitive examinations previously. This makes it ideal for students who are preparing to appear in the AMIE.
About R. K. Bansal
R. K. Bansal, with a teaching career spanning 35 years, is a Professor and the Head of the Department of Mechanical Engineering at the University of Delhi. He has authored several other books, some of which include Engineering Mechanics, Mechanics of Solids, and A Textbook of Fluid Mechanics.
Bansal has an M.Tech degree in Mechanical Engineering from the Indian Institute of Technology, Delhi, and a Ph.D from the University of Delhi. He has been awarded certificates of merit by the Institution of Engineers for two of his research papers. Dr. Bansal holds the honour of being awarded the first Distinguished Authors Award in 1999 by the Federation of Educational Publishers in India (FEPI).