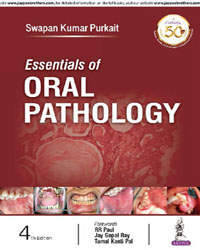 Essentials of Oral Pathology Author: Swapan Kumar Purkait
| | |
| --- | --- |
| ISBN | 9789352705702 |
| Edition | 4/e |
| Publish Year | 2019 |
| Pages | 750 |
| Size | 6.75″ X 9.5″ |
| Cover Type | Paper Back |
| With CD/DVD | No |
| Weight (Grams) | 1070 |
Description
Quick Overview

This book has twenty-three chapters, illustrations and photographs arranged systematically to fit in with the course and curriculum for undergraduate teaching; though much emphasis is not given on in-depth detail of molecular and biochemical aspects of modern diagnostic pathology, since this book has been written keeping in mind the need of undergraduate students only.
Key Features

• All chapters are adequately covered, revised and updated within a concise volume.

• Inclusion of large numbers of clinical and radiographic photographs and several photomicrographs of important cases is the hallmark feature of this edition.

• Simple and lucid language for easy understanding.

• Concise and comprehensive presentation of each topic will be helpful for both undergraduate and postgraduate students.

• Latest classifications of oral diseases, recent grading and staging system of tumors have been added.

• New chapters like Diseases of Temporomandibular Joint, Syndromes Related to Oral Diseases, and Important Classification of Oral Diseases have been added.

• Relevant Key Points and important Text Boxes have been provided in every chapter wherever required for last minute revision.

• Several diagrams, tables and flowcharts have been provided to help students understand the subject better.
Related products