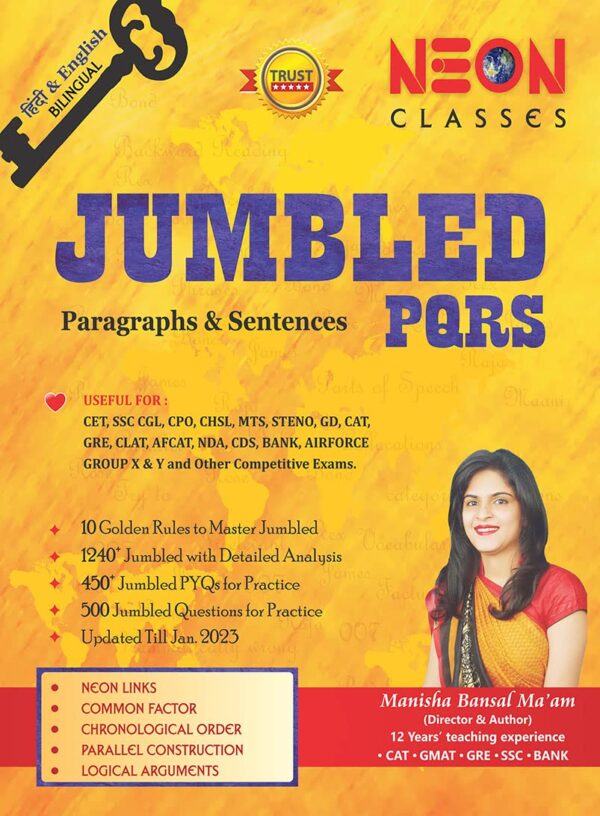 Jumbled Paragraphs & Sentence (PQRS) For SSC/BANK/CDS (Fully Revised ) by Manisha Bansal (Author)
USEFUL FOR:
CET,SSC,CGL,CPO,CHSL,MTS,STENO,GD,CAT,GRE,CLAT,AFCAT,NDA,CDS,BANK,AIRFORCE GROUP X&Y and other Competitive Exams.
2 in stock
Description
Jumbled 'Neon Jumbled PQRS' is a saviour, a godsend gift for all the students who are aspiring for IBPS/SSC/Railways and other competitive exams. Jumbled paragraphs are often considered one of the trickiest parts of English comprehension, but once you read this miraculous book by Manisha Bansal Ma'am who, after years of hard work and. Constant studies of exam papers, has propounded ten infallible links that can relate one sentience to the next and once you master those links, you will be led to the correct order without straying in the wrong direction To Solve a jumbled paragraph was never so easy, as you come to understand the patterns that lead you to the adjoining sentence. The book provides you detailed analysis of hundreds of such questions asked in the previous year's exams. After a profound study of this book, you would be able to find out the ways of constructing the parallel links, running in a paragraph or locating the collocations hidden in them. It is really amazing to find out that by just arranging the paragraph according to the chronological order of the happenings, you strike the right answer and the most fascinating nevertheless very aptly analysised way of Manisha ma'am is to solve a jumbled paragraph, merely with the help of punctuation marks. The only thing you have to do to excel at jumbled paragraph, is to grab your copy and start studying it. It's magic. Rest assured. For more such success-oriented matter follow us on Facebook by hitting like on neon classes or visit our website www.neonclasses. Subscribe our YouTube channel Neon classes where you will find none other than Manisha Bansal Ma'am and Raja sir teaching in person along with their fabulous team. Stay tuned.